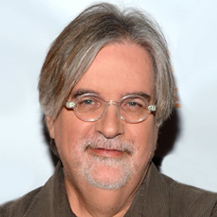 Matt Groening is an American cartoonist, screenwriter, producer, animator, author, musician, comedian, and voice actor. He is the creator of the comic strip Life in Hell as well as two successful television series, The Simpsons and Futurama.

Groening made his first professional cartoon sale of Life in Hell to the avant-garde Wet magazine. Life in Hell caught the attention of James L. Brooks who contacted Groening with the proposition of working in animation for the Fox variety show The Tracey Ullman Show. Originally, Brooks wanted Groening to adapt his Life in Hell characters for the show. Fearing the loss of ownership rights, Groening decided to create something new and came up with a cartoon family, Matt Groening's Simpsons family, and named the members after his own parents and sisters - while Bart was an anagram of the word brat. The shorts spun off into their own series, The Simpsons. Groening later developed Futurama, an animated series about life in the year 3000.

Groening has won many awards for his work and also received a star on the Hollywood Walk of Fame.